Hands-on Training in Plant Taxonomy and Ethnobotany
Period: 3rd January till 31st January 2023
Venue: Patanjali Research Foundation, Haridwar, Uttarakhand, India.
Hands-on training in Plant Taxonomy and Ethnobotany was inaugurated on 3rd January 2023 at Patanjali Research Foundation. The participants were students of Ayurveda and Botany, coming from all over India. The duration of the training was from 3rd January 2023 till 31st January 2023. Dr. Uday Bhan Prajapti was the course coordinator and also the main mentor throughout this training programme.
On the first day of the training, Dr. Ved Priya Arya, Dr. Rama Shankar and Dr. Anupam Srivastava and other senior Scientists welcomed all the trainees to Patanjali Research Foundation. Dr. Srivastava gave an introduction of the course and its objective.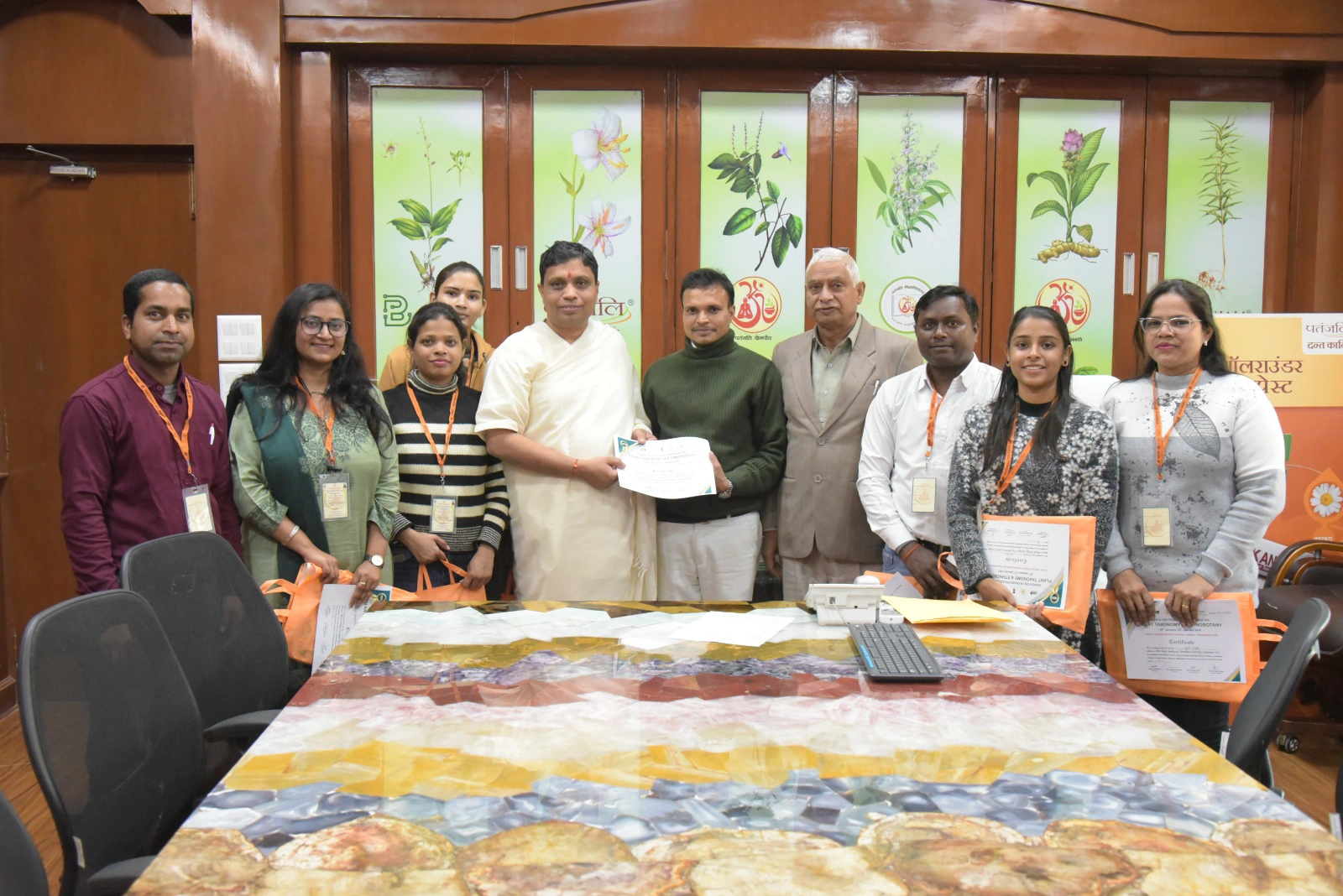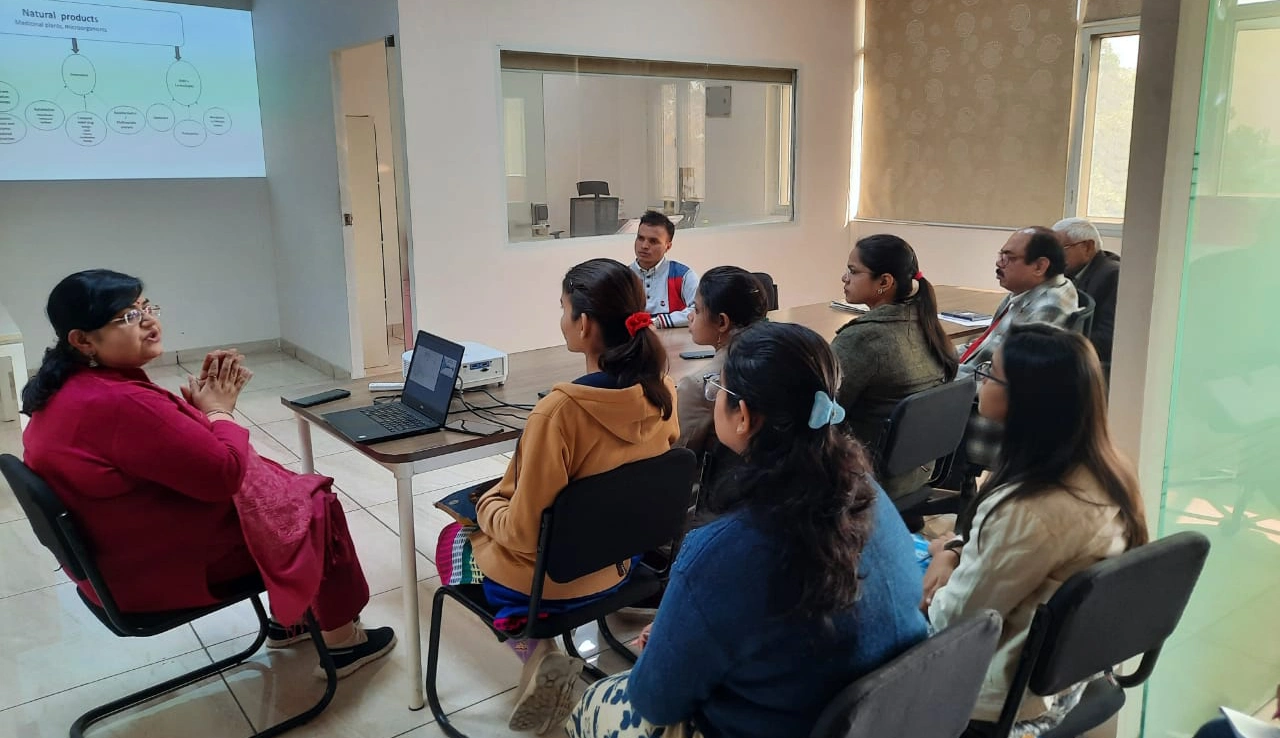 Prior to the commencement of the course, the trainees visited all the facilities in the institute. They went to the laboratories of the Drug Discovery and Development Division under the guidance of Dr. Rishabh Dev. Here, Dr. Dev explained the science behind ayurveda; i.e. scientific research works and experiments being conducted in these laboratories to test the efficacy of the ayurvedic medicines produced by Patanjali. The trainees also visited the Herbal Garden, under the supervision of Dr. Inam Mohamad who explained the various ayurvedic plants that are available in the garden.
Overall, there were Twenty one lectures conducted by the Scientists from the Herbal Division of Patanjali Research Foundation.
Daily The day started off with lectures by Scientists in different fields or subjects but all focusing on the same objective and mission that Patanjali Research Foundation is doing in the field of Plant Taxonomy. Post lectures, the trainees had to present their individual work (Personality development test) which was being chaired mainly by Dr. Anupam Srivastava, Dr. Rama Shankar and Dr. Uday Bhan Prajapti. In this personality development test, each student presented a lecture on what they have learnt in the earlier lecture. Here, the mentors will provide guidance, feedback and comments about their presentation.
After lunch, the trainees either had a hands-on training or field work under the supervision of Scientists of PRI. The day ended with a summary presented by the trainees on what they have learnt on that day.
In between the course, weekly test was conducted to ensure the trainees understood what they have learnt so far. They also had a chance to visit Patanjali Food and Herbal Park situated in Padartha, Laksar Road, Haridwar, Uttarkhand to understand in depth how Patanjali food and medicines are being manufactured here. On 14th January 2023 which happened to be Makar Sankarti, they were invited to join a Hawan session with Param Pujaya Swami Ramdev Ji and Param Pujya Acharya Balkrishna Ji and with the rest of Patanjali staff.
On the last day of the training on 31st January 2023, the trainees had to undergo the final test, submit Herbarium Sheet and also presented their final presentation as a part of the personality development test. Here, they were assessed both in terms of knowledge gained from the course and also their presentation skills. Everyone did very well in both the test and their presentation skills.
Prior to the closing speech by Dr. Anupam Srivastava & Dr. Ved Priya Arya, the trainees had a chance to meet Param Pujya Acharya Balkrishna Ji where certificates were awarded to all of them.
Overall, the trainees had a wonderful and knowledgeable one month of learning not just about ayurveda and botany but also had a glimpse of life in Patanjali Research Foundation and the research work done by the Scientists. They were truly impressed with the research work that are backed-up with modern facilities available in Patanjali Research Foundation
Below are the lectures presented by the Scientists during the duration of the course.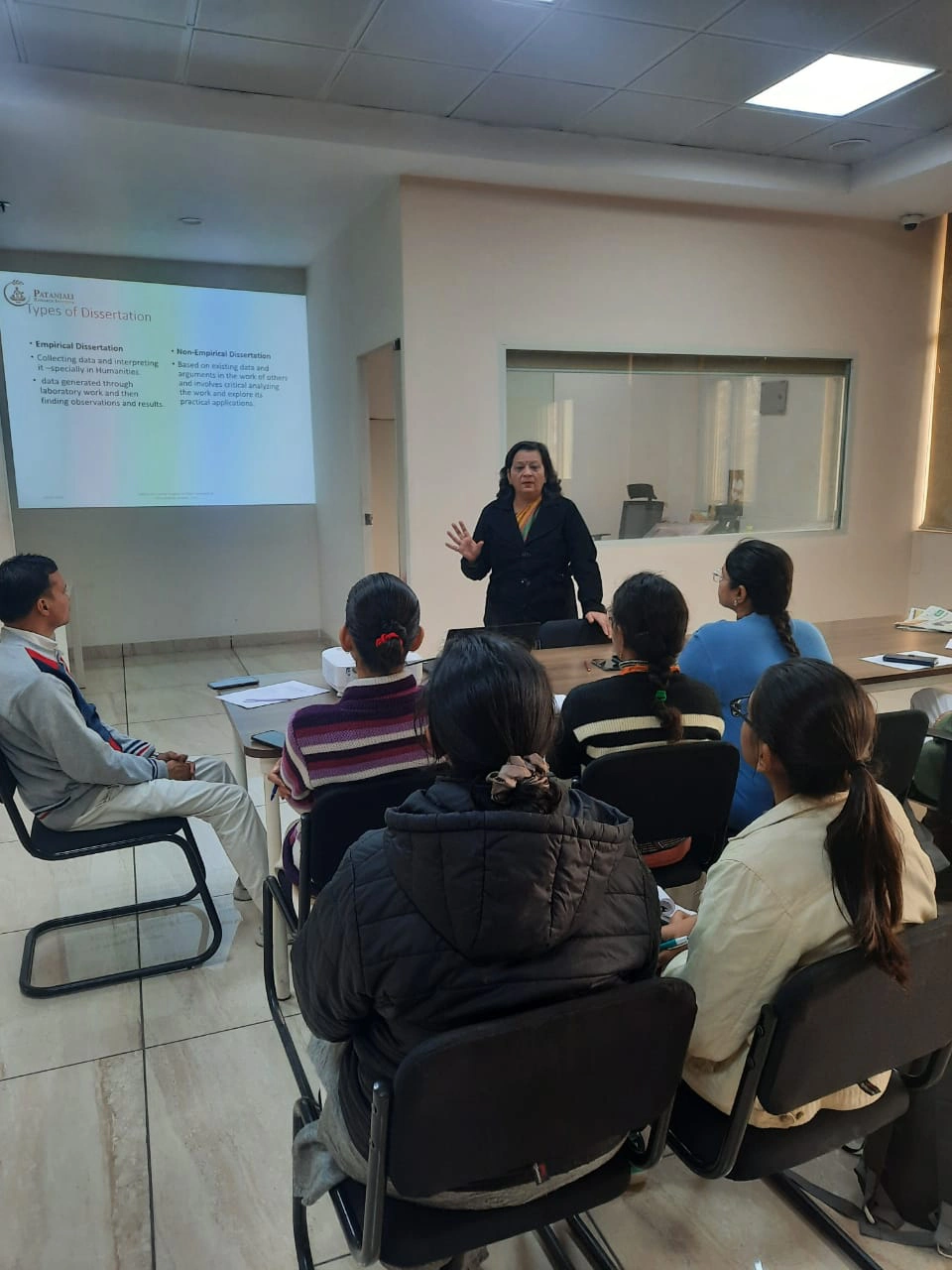 Introduction about course and its objective by Dr. Anupam Srivastava
Identification of Higher Plant by Dr.Bhaskar Joshi
Lower Plant Identification by Dr. Ajay Kumar Gautam
Herbarium Preparation and Plant Identification by Dr. Anupam Srivastava
Study of Herbarium around the World by Dr. Amit Kumar
Plant Anatomy by Dr.I.P.Sharma
Higher Plant Description by Dr. Arun Kushwaha
Description of Lower Plant by Dr. Nidhi Sharma
Plant Classification by Dr. Bhaskar Joshi
Typification by Dr. Amit Kumar
Plant Nomenclature & Vedic Taxonomy by Dr. Rama Shankar
How to write Flora by Dr. Bhaskar Joshi
E-flora: The Future of Floristic Documentation by Dr. Ajay Kumar
Conservation by Dr. Rama Shankar
Ecological Study by Dr. Uday Bhan Prajapati
Dissertation Writing by Dr. Rashmi Atul Joshi
How to prepare a Manuscript by Dr. I. P. Sharma
Ethnobotany by Dr. Rama Shankar Pathak.
Medicinal Plant and their Uses by Rajesh Mishra
Painting, Drawing and Photography by Dr. Arun Kushwaha
Recent Innovation in Herbal Research by Dr Ved Priya Arya
Below are some snippets of the feedback from the trainees.
Sonika, Haryana, completed Masters in Botany, BMU, Rohatak. She found out about the course through her university mentor so she decided to apply for it. She is over-whelmed with the training and professional and down-to-earth attitude of the teachers and the mentor. She has gained a lot of knowledge and now she understands the specific filed of taxonomy from this course.
Jyoti Gupta, pursuing PhD Botany at DDU, Gorakhpur. She also found out about this course through her university mentor. In this course, she has learnt a lot about taxonomy for e.g. plant identifications in a very detailed manner. Teachers are so helpful and full of knowledge about the topics they presented, which has helped her in the PhD programme.